Strengthening Links with the Medical Community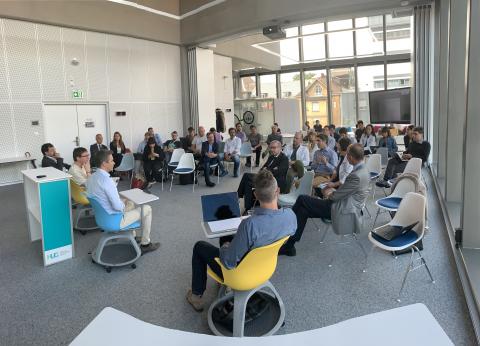 On 20 June, a group of experts from CERN and Geneva University Hospital (HUG) came together at the hospital premises to explore how Information and Communications Technologies (ICT) developed at CERN could contribute solving the future technological needs of the hospital. The workshop was first of its kind, co-organised by CERN's Knowledge Transfer group in collaboration with HUG's Innovation Centre.
Advances in technologies developed for high-energy physics represents a major knowledge transfer opportunity for the benefit of the medical community. In close collaboration with healthcare, scientific and industrial experts, CERN aims to identify the most promising technologies that can provide solutions to the needs of end-users. During the workshop, nine technologies were presented by CERN ICT experts, from organisational software to life science software projects, machine learning and big data software.
"In this novel approach, we come without any preconceived opinion on what CERN can do for HUG, leaving it up to the medical experts to select the technologies that solve their concrete problems."

Alessandro Raimondo, Medical Applications Officer, CERN
CERN and HUG have previously found synergies in several areas, ranging from joint research projects, medical services for the CERN community and collaborations on innovation initiatives. The workshop has contributed to strengthen this long-standing relationship, and the two organisations are now further exploring the topics discussed during the day, with the aim of transferring selected CERN know-how to the hospital setting.
"Let's work together on expanding our expertise for the benefit of patients"

Bertrand Levrat, General Director, HUG