Slush brings scientists and entrepreneurs closer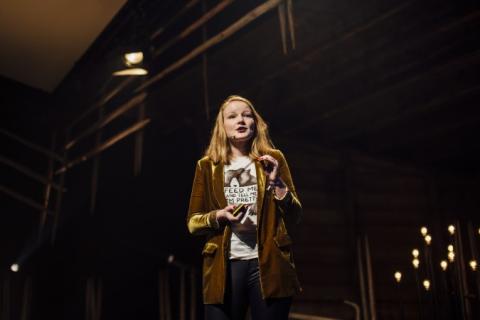 With astonishing figures like 17,500 attendees, one million live stream viewers and thousands of participating start-up companies and venture capitalists, Slush is undeniably Europe's leading entrepreneurship event. Among accredited business founders and investors, CERN was invited to give a keynote speech at the 2016 edition of the annual event, held in Helsinki, Finland, at the start of December. With Slush aiming to aid the next generation of world-conquering companies and CERN aiming to find answers to fundamental questions about the Universe, you might wonder what these two organisations have in common.
Triggered by their divergent raisons d'être, there has traditionally existed a gap between the disciplines of science and entrepreneurship. However, the science community and the entrepreneurship community have started to realise that the benefits of cooperating are reciprocal. Just like start-up companies, fundamental research is dependent on innovation in order to move forward, and thus, bridging the gap can lead to new opportunities for both communities.  
To an ever-increasing degree, CERN has acknowledged the potential impact of commercialising technologies and know-how from its various activities. The experiments and operations performed at the Laboratory require constant innovation and development. How can inventions and know-how from CERN be applied in society at large? One of the answers to that question lies with inventors and entrepreneurs. That is why CERN is committed to building a culture of entrepreneurship within the Organization, doing so through activities like the CERN Entrepreneurship Meet-Ups and KT Seminars on entrepreneurship. In addition, there is a network of Business Incubation Centres of CERN technology across Europe, specialising in supporting start-ups and small high-tech businesses working with technology from CERN.
Vice versa, through the new initiative Slush Science Track, Slush has brought academic research into the spotlight. The annual Slush Science Track gathers top-quality research under one roof and, as a highlight, a 100 000-euro prize for basic research is given to the best research idea presented. Slush underpins the initiative by remarking that "all inventions come from science, and that today's findings will lead to products years later".
Marthe Dehli, Entrepreneurship Development Officer in CERN's Knowledge Transfer Group, was invited as a keynote speaker to the Slush Science Track in December 2016 to talk about CERN, shedding light on the importance of scientific research for entrepreneurship and innovation. Thus, CERN and Slush are unified by the common understanding of bridging the two disciplines.
Check out Marthe Dehli's keynote speech: http://bit.ly/2lbb5yg  
This article was originally published in the CERN Courier, April 2017