CERN Knowledge Transfer at the European Science Open Forum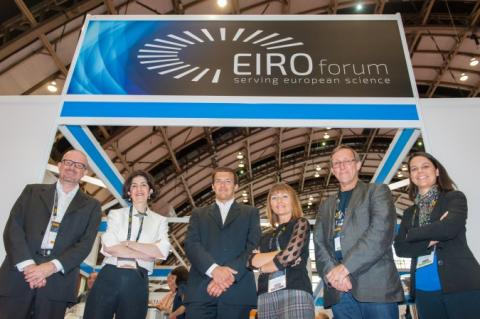 CERN attended the European Science Open Forum (ESOF) in Manchester this July, as part of EIROforum, a network of eight European Intergovernmental Research Organisations (EIROs) set up to support European science in reaching its full potential.  EIROforum works closely with industry to foster innovation and to stimulate the transfer of technology. 
At ESOF, EIROforum was present to showcase the science, technology, business, career and cooperation opportunities that come from pooling together resources from large European research organisations. 
ESOF 2016 focused on the themes of Healthcare, Sustainability and Materials; these were particularly relevant to us and were showcased with examples at our stand. The stand was organised by the dedicated EIROforum working group on Innovation Management, chaired by Enrico Chesta in CERN's Knowledge Transfer group.
"The EIROforum stand focused on the many technologies, spin-offs and industry opportunities related to Healthcare, Sustainability and Materials", said Chesta. "Our knowledge transfer activities extend beyond these themes in a broad range of domains," he added.
These technologies were also presented at ESOF with talks on Healthcare, Improving Society, and Business Opportunities. Another session included a panel discussion on "Creating Local Business Value from European Big Science Facilities", where head of CERN Knowledge Transfer Giovanni Anelli took part alongside experts from ESA and STFC.
CERN Director General, Fabiola Gianotti, also took part in a panel discussing the importance of science on a European level. During ESOF, she took time to visit the stand dedicated to EIROforum's knowledge and technology transfer examples (pictured).
ESOF attracted leaders in industry, research, technology, science, journalism and policy. This is exactly the right mix that accelerates the innovation process which benefits all of society. The large number of ESOF participants, and the broad range of their backgrounds gave us access to an invaluable network of thinkers dedicated to innovation. 
-----------------------------
The disciplines covered by EIROforum organisations range from particle physics, space science and biology to fusion research, astronomy, neutron and photon sciences. The organisations included in EIROforum are: CERN, EMBL, ESA, ESO, ESRF, EUROfusion, European XFEL and ILL.
Find out more about EIROforum here.
EIROforum members:
CERN: European Organization for Nuclear Research
EMBL: European Molecular Biology Laboratory
ESA: European Space Agency
ESO: European Southern Observatory
ESRF: European Synchrotron Radiation Facility
EUROfusion: European Consortium for the Development of Fusion Energy
European XFEL: European X-ray Free Electron Laser Facility
ILL: Institute Laue-Langevin (Neutrons for Science)