CERN at G3iD: tackling UN's Sustainable Development Goals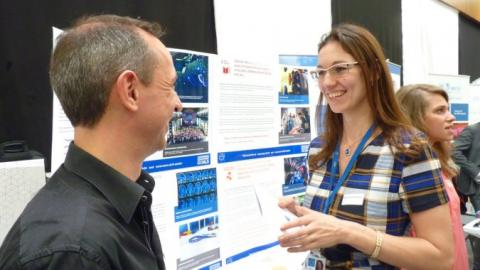 CERN attended the United Nations' Geneva Global Goals innovation Day (G3iD) to show how CERN tackles UN's Sustainable Development Goals.
The UN's 17 Sustainable Development Goals (SDGs)(link is external) came into force in 2016, each one with specific targets to be met over the next 15 years to end poverty, protect the planet and ensure prosperity for all. These ambitious Goals are part of the 2030 Agenda for Sustainable Development(link is external), adopted by world leaders to transform our world.
By pursuing its core mission and fulfilling its current mandate, CERN is de-facto contributing to the implementation of five SDGs, namely 3, 4, 9, 16 and 17 (see here below). At the G3iD event CERN showed what the Organization is doing today to address these goals, and invited people to suggest how it can contribute further to the SDGs.
CERN's contribution was a positive surprise for many participants, as the Organization's impact on society and undertaking in pursuing these global challenges are still not widely known to the public.
SDG 3: Good health and well-being. The technologies, know-how, and scientific advances behind high-energy physics have historically contributed to the field of medical and biomedical applications. Future developments at CERN will continue to help address global societal challenges in healthcare; within therapy, medical imaging, medical and biomedical research and technology.
SDG 4: Quality education. CERN aims to inspire the rising generation of new scientists, and contributes to making high quality skills available to its Member States through a diverse range of programmes for students, teachers and young researchers.
SDG 9: Industry, innovation and infrastructure. Reaching ambitious scientific objectives requires the development of new technologies, making CERN a driver of innovation. The CERN Knowledge Transfer group provides advice, support, training, network and infrastructure to ease the transfer of CERN's know-how to industry and eventually society. In addition, nearly half of CERN's annual budget returns to industry, and contracts with CERN help industry drive their innovation.
SDG 16: Peace, justice and strong institutions. For more than 60 years, CERN has provided a framework for peaceful scientific collaboration. Moreover, CERN is an accountable and transparent institution, ensuring participatory and representative decision-making, as well as public access to information.
SDG 17: Partnership for the goals. CERN has become a model for global cooperation and has paved the way for other institutions combining scientific excellence with science diplomacy. At CERN, 16 000 scientists from over 110 nations work together, regardless of religious and political views.
Aiming to accelerate the achievement of the SDGs, the Geneva Global Goals innovation Day (G3iD)(link is external) took place on March 24th in Geneva. G3iD's SDG Solutions Fair(link is external) had over 60 organizations participating and was a place for showcasing and exploring solutions to SDG-related challenges. 
Authors: Afroditi Anastasaki, Barbora Bruant Gulejova, Tiago de Araujo, Victoria Emilie Isern, Olivier Martin, Ranveig Strøm
This article was originally published at the main CERN website
18th April 2017