CERN featured in Global Innovation Index 2016 Report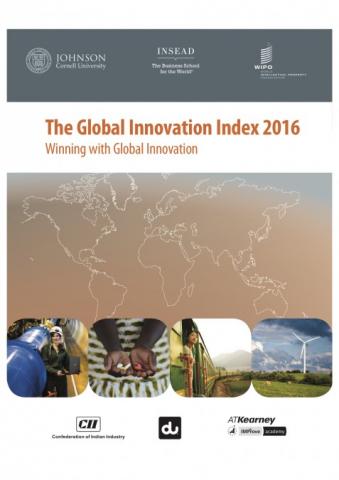 CERN is delighted to be featured in the 9th edition of the The Global Innovation Index 2016 (GII 2016). The GII 2016 was launched today, co-published by Cornell University, INSEAD and the World Intellectual Property Organisation (WIPO).
Over the last nine years, the GII report has established itself as a leading reference on innovation. Its ranking of the world economies' innovation capabilities and results has become a benchmarking tool for business executives, policy makers, and others seeking insight into the state of innovation around the world.
United Nations Secretary General Ban Ki-moon described the GII as a "unique tool […] providing an accurate picture of the role of science, technology and innovation in sustainable development".
The theme of this year's GII is "Winning with global innovation". The report highlights the importance of innovation on economic growth and development, and investigates the difference between national and global innovation processes. Whereas innovation might be historically seen as a national advantage, the GII 2016 focusses on innovation as a global win-win proposition.
The transnational flow of human capital and research, as well as knowledge and technology transfer on international scales, are what contribute to the innovation process being global win-win process, as explained in the report.
The report spells out how this mind-set regarding innovation naturally calls for "a global governance framework" through international organisations and transnational networks. The GII 2016 uses CERN as an example of an existing successful regional initiative.
This year saw CERN Director General Fabiola Gianotti incorporate the GII select Advisory Board. The GII 2016 was launched today at the United Nations Office in Geneva, where CERN Head of Knowledge Transfer, Giovanni Anelli, is present.
The GII was released under the Creative Commons license, which CERN supports as it is in line with its own tradition of openness. The report features on its cover a picture of a CERN engineer checking electronics on a LHC dipole magnet.
Read more:
Global Innovation Index 2016 report
Link to Global Innovation Index 2016 Press Release