CERN develops washable 3D-printed face mask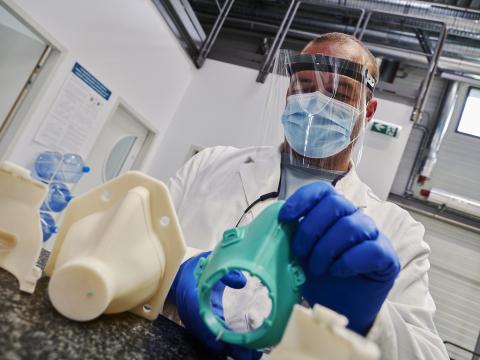 On March 23, an initiative started amongst CERN personnel to produce 3D-printed face masks with interchangeable filters. The initial goal was to develop a 3D-printed washable mask with the possibility of fitting different types of easily-available filtration materials that would offer at least the same filtration level as a type I mask as defined in the applicable standard, i.e. offering protection against droplets, and to release all the information about making the masks publicly. Some 20 people from different CERN Departments and Experiments have been involved in the project, ranging from the 3D design and printing process to supply chain and safety. The initiative is supported by the CERN against COVID-19 Task Force, which allocated a budget for the printing material. The printers used are the project members' own.
Even though EU regulations for this kind of device have been eased during the COVID-19 pandemic, CERN has sought to design the mask in accordance with the full set of health and safety requirements under the applicable standard.
A prototype of the mask was tested by the CERN Fire and Rescue service, as well as the CERN Medical Service. The feedback was very positive, especially regarding the flexible and comfortable design. Using a version with the filter installed in a grilled support, the prototype has also been tested by an external testing laboratory. However, certification of the device remains the responsibility of the licensee that produces and makes the mask available in the market.
The CERN Fire and Rescue Service tested early prototypes of the 3D printed masks whose designs have been published using the CERN Open Hardware License (Image: CERN)
In parallel to printing this flexible mask, the project group has also printed a mould in a rigid plastic material. This mould is printed in two separate parts, which can be injected with silicon. It offers an alternative for 3D-printers that do not have the ability to print in a flexible material, and also allows production to be scaled up if demand required it.
CERN has published all documentation using the CERN Open Hardware License. This includes the 3D-models, printer settings for the different printers used, the slicing-file for the 3D-printing software, and the filter information.
The article was originally published by CERN against COVID-19