CERN and ESA forge closer ties with cooperation protocol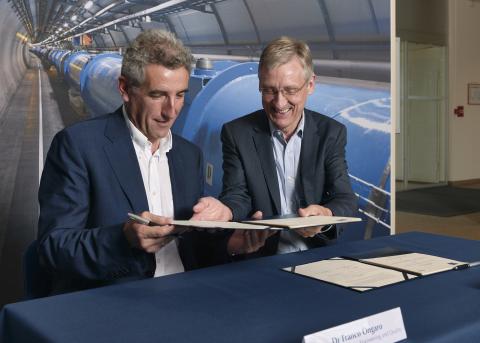 A new collaboration agreement between CERN and ESA, signed on 11 July, will address the challenge of operating in harsh radiation environments, found in both particle-physics facilities and outer space. The agreement concerns radiation environments, technologies and facilities with potential applications in both space systems and particle-physics experiments or accelerators.
This first implementing protocol of CERN-ESA bilateral cooperation covers a broad range of activities, from general aspects like coordination, financing and personnel exchange, to a list of irradiation facilities for joint R&D activities. It also states the willingness of both organisations to support PhD students working on radiation subjects of common interest.
The agreement identifies seven specific projects with high priority: high-energy electron tests; high-penetration heavy-ion tests; assessment of EEE commercial components and modules (COTS); in-orbit technology demonstration; "radiation-hard" and "radiation-tolerant" components and modules; radiation detectors, monitors and dosimeters; and simulation tools for radiation effects.
In some cases, important preliminary results have already been achieved: high-energy electron tests for the JUICE mission were performed in the CLEAR/VESPER facility to simulate the environment of Jupiter. Complex components were also tested with xenon and lead ions in the SPS North Area at CERN for an in-depth analysis of galactic cosmic-ray effects. These activities will continue and the newly identified ones will be implemented under the coordination of the CERN-ESA Committee on Radiation Issues.

The following CERN irradiation facilities will be part of CERN-ESA protocol on radiation testing: IRRAD (24 GeV/c proton beam), CERF (reference neutron field), n_TOF (pulsed neutron source with high instantaneous flux and wide energy spectrum), and CALLAB (gamma/x-ray for TID studies). NASA and ESA also make use of Advacam's tools for particle tracking and high-resolution dosimetry and detection of space radiation. The miniaturised MiniPIX-TimePIX camera can study mixed-radiation fields consisting namely of X-rays and charged particles. The camera broadly characterises for particle type, energy loss and direction.